A Revolution in Chess Study and Research
---
PGN Mentor 4.0

is the latest and greatest version of the world's best PGN utility. Order Now for only $25 U.S.


---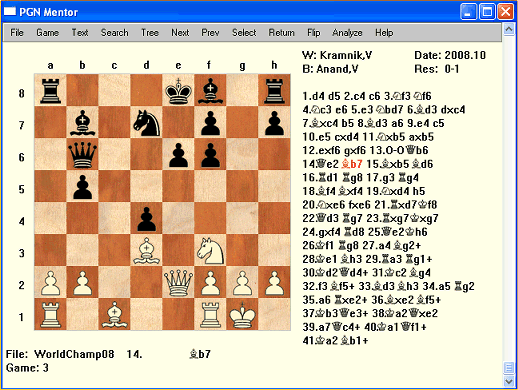 Welcome to our website, where you will find the best collection of PGN files on the net and PGN Mentor, the best software available for working with PGN files.

PGN Mentor is a chess database/study program that brings you everything you could ever need for chess study and research:
Perfect environment for viewing and studying chess games
Extensive capabilities for searching PGN files
Large ECO opening book database, over 13,400 individual lines
Tree organization modes for PGN files and ECO code openings
Powerful database functions for creating customized databases
Crafty interface to play or analyze games utilizing the Crafty chess engine
Universal Chess Interface (UCI) to play or analyze games utilizing UCI chess engines such as Glaurung, Rebel UCI, Ruffian, Rybka, and many more
Numerous publishing/analysis features for serious chess players
Creation of chess diagrams in GIF, JPEG, PNG, Bitmap and HTML formats
You can try out the demo version of PGN Mentor before purchasing the full version. The demo has full capability for reading and viewing of PGN files, and full functionality for certain PGN files. Also, a free companion PGN file to the book

Garry Kasparov On My Great Predecessors, Part 1

is included with the demo download. Download the demo version here.

You have free access to thousands of grandmaster games by visiting our PGN files collection.

Once you decide to purchase the program, your order will be processed immediately and you will be able to download the program right away. Order now for only $25.

People all over the world are using PGN Mentor. We have registered users from 59 countries!


























































---
---
PGN Mentor 4.0 is virtually limitless in its capabilities for chess study and research.

Do you want to find out how Judit Polgar, with the Black pieces, combats the line 1.d4 Nf6 2.c4 g6 3.Nc3 Bg7 4.e4 d6 5.f3 O-O 6.Be3? Easy!
Do you want to study all of the games from the 1989 USSR Championship? Easy!
Do you want to see games in which positions arose where black had pawns on a6, d6, and e6, and white had pawns on a4 and e4, a knight on d4 and a bishop on e2? Easy!
Do you want to find and study Grandmaster games which concluded in complicated rook and pawn endings? Easy!
Do you want to study all the games from all of the World Championship matches? Easy!
Do you want to find and study all of the games between Kasparov and Karpov? Easy!
Do you want find win/loss/draw statistics of certain players, in certain openings? Easy!
Do you want to find games played a certain year, in a certain city, at a certain tournament, or during a certain round? Easy!
Do you want to create professionally formatted chess documents and web pages with figurine notation and beautiful diagrams? Easy!
Do you want to create PGN files? Easy!
Clear and well designed board
Several popular piece styles
English algebraic and figurine algebraic notation
Game and text mode, "Normal Text" or "Actual Text" options
Print games, variable font size
Easy game and file navigation, organized and easily accessible help files
Instant viewing of any position in the game, flip board, and more

Find games of any conceivable opening line
Browse database of ECO codes - over 13,400 individual lines
Transpositions identified or "Exact Variation" option
Find games of any position
Find games of any specific pawn structure
Find games of any development pattern, king position, etc.
Find games of any conceivable material amount, endgame scenario, etc.
Find games played by any particular player, specify a color if desired
Find games of any particular event, date, location, round, result, and more
Restrict search results by specifying any combination of the above elements
Search entire directories if desired
Use the powerful "Tree" function to map out all lines of play in a given PGN file or in the ECO codes database, identifying all transpositions

Organize and create files and games

Copy and move games to any file
Append or insert selected games or search results to any file
Create and add new games
Annotate games
Modify and delete games
Check files for illegal moves and possible file corruption

Analysis and chess publishing

Enter "Analysis" mode and try out your own lines
Show analysis record
Play through analysis, no matter how many levels of variations there are
Use "Study Mode" to test yourself and try to anticipate the Grandmaster's next move
Challenge yourself and hide the game text while studying the position
Study or create chess problems with starting positions defined in FEN format
Generate beautiful chess diagrams
Publish clear and well formatted chess web pages and annotation files
The registered version of PGN Mentor comes with:
Thousands of grandmaster games, including every world championship game ever played
Companion PGN files for Garry Kasparov's

On My Great Predecessors, Parts 1, 2, 3, 4

and

5

Companion PGN files for several classic master games, tactics and endgame chess books
---

Only $25 U.S.
Order Now!
Minimum System Requirements: Windows 95 or higher
---
---
Copyright © 2009 64 Squares.